Michael Verschueren in the picture as a new sporting boss
TUESDAY, 13 NOVEMBER 2018, 15:23 - lajoya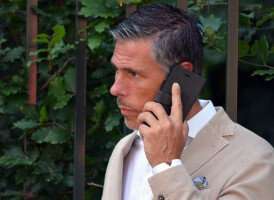 OTHER The transfers from Luc Devroe are not really a success. Marc Coucke has repeatedly stated that he has misjudged this core. And so Michael Verschueren is coming to the fore more and more. He is named as the new sports boss at RSC Anderlecht.


As the son of Verschueren already has a line with the supporters. His contacts that he has built up as a member of the ECA, the federation of European clubs, also prove valuable. It is no secret that the chairman and Verschueren are also reasonably close. Since the takeover it has already been suggested that Verschueren will play a more emphatic role within purple-white.

Will that be as a new sporting boss? The transfers that Luc Devroe has done are not very successful. On the other hand, Verschueren also knows the Anderlecht house better. Since the takeover he is also more present at the far and European trips.

The question, of course, is whether Devroe will tolerate a second man next to him or if he will have another function within the club. If Verschueren will determine the new sporting policy, of course.


Source: © Internal source
anderlecht-online forum