Verschueren: "Platform made for agents"
MONDAY, 14 JANUARY 2019, 11:37 - lajoya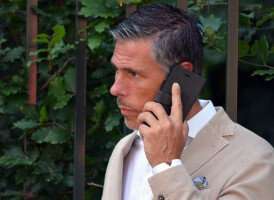 INTERVIEWS The transfer period is now almost two weeks far. RSC Anderlecht wants a few reinforcements and the agents have not failed to notice. Michaël Verschueren receives several messages daily via all channels. Too much, so purple-white works on a platform where all agents can go to.


The aim is to start an administrative simplification process where the agents can register. "Now we get messages from agents through all kinds of digital channels, that's not professional, it's too much and too diverse to be able to answer everything. In their own interest, we decided to build a platform that allows them to register themselves. It is important for us to know with whom we do business, especially with "Clean Hands" in mind, "explains Verschueren.

"All info is processed automatically", continues the sports manager, "Where the scouting can add reports, then we can ask for advice to answer the agents afterwards, and every agents must register in Belgium. If that license is in order we also assume that they are in order.

Can Mogi Bayat register? "He can always try that, I have made a clear statement, but not only to him, we do not work with the people who are in suspect. If they are clean of all charge, we can possibly work with them."


anderlecht-online forum