"Supporters are not calmed by promise that youth will play"
SUNDAY, 21 APRIL 2019, 11:31 - lajoya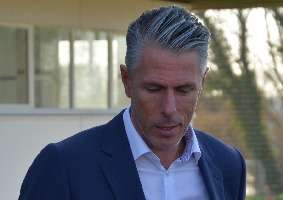 INTERVIEWS Michaël Verschueren made a promise to the fans that the youth would get more play opportunities. Karim Belhocine does not now feel obliged to put the youth. The coach now feels no obligation to deploy youngsters.


Belhocine did not allow himself to be driven into the corner by that question and responded moderately. "First and foremost, your statement is wrong," he said to the journalist asking the question, "The supporters will not be calmed down by promising to give the youth more chances to play. They have calmed down because we have explained to them the future of the club. I see people work hard behind the scenes day and night. They now realize that everyone here is doing everything to improve things. They have seen where the club's vision for the future lies. "

"So to answer your other question," Belhocine continued, "I feel no obligation to deploy anyone. No one will have to tell me who will and will not play, that decision is still with me and something else I will not accept. The day I do that, I will stop. Everyone in the team must earn their place whether it is a young player or an experienced player. "


anderlecht-online forum