Anderlecht will defend itself at the BAS tomorrow
WEDNESDAY, 17 JULY 2019, 22:59 - lajoya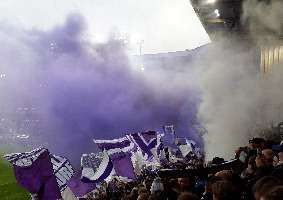 OTHER Imagine: Vincent Kompany playing his first official game for RSC Anderlecht without a crowd. That chance is not non-existent, because purple and white can still receive such a punishment. Tomorrow the club can defend itself at the Belgian Arbitration Court for Sport (BAS).


The penalty comes as a result of the incidents during Standard-Anderlecht in play-off 1 of last season. The game then had to be stopped. As a result, RSC Anderlecht received a fine, an awareness campaign and a defeat of 5-0 and a match behind closed doors. Only the last sanction would not be accepted by Purple & White and tomorrow the case will therefore appear in front of the BAS.

In 2017 Standard received a similar penalty, except that the Rouches received the punishment of two games behind closed doors. Standard also appealed against this and was proved right by the BAS, which canceled the penalty.


Source: © Internal source
anderlecht-online forum