Annalists hard for Anderlecht: "The team is sick to death"
MONDAY, 25 JANUARY 2016, 21:43 - Bacardiboy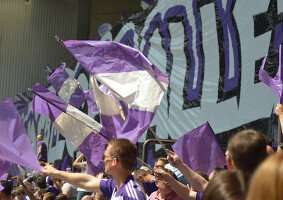 OPINIONS It is clear that Anderlecht are going to a difficult period and many annalists share their vision on what is going wrong. They are hard for coach Besnik Hasi, but also for the players.

Peter Vandenbempt (Sporza): "Paralyzed by fear"

"Anderlecht did win, but time is running for them. They obtained a victory but Charleroi had several opportunities to score. It was embarrassing at times. Not the attitude was the problem did time but it looked like they were afraid. There is no team on the pitch. The fans are right to show their disappointment but it doesn't help the team. Anderlecht are sick to death."

Jacques Sys (Sport/Voetbalmagazine): "Fans are not an excuse"

"It is nonsense the criticism of the fans make the players unconfident. If that's your excuse, you better look for another job. The performance was very poor and there is no improvement. Besnik Hasi should question himself and the players. How come the team has no confidence? How come there is no clear system? Who can help out this team? As there is no alternative, Hasi will keep his job."

Marc Degryse (Het Laatste Nieuws): "This is no team"

"Anderlecht do not play as a team. The midfield does not help out the defence, this team does not know how to play a match. Anderlecht is really sick. The fans are right when they show their disappointment. Hasi has a lot of work to do. It is a clear sign that once again he changed his formation. They need new blood in the team."

Jan Mulder (Het Laatste Nieuws): "The players decide to play like this, not the coach"

"Anderlecht won but the players were not proud at all. Nobody has confidence. They are close to a crisis. They played great football for about twenty minutes, but afterwards it went back to zero. The players decide the way they want to play, not the coach."


anderlecht-online forum