Kindermans: "Vancamp is a great guy"
THURSDAY, 10 MARCH 2016, 08:14 - Bacardiboy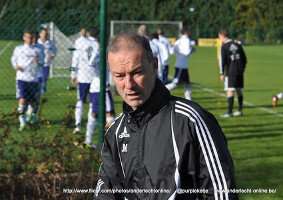 YOUTH - OPINIONS What do they think at Anderlecht of Jorn Vancamp? Is he ready to join the first team? Jean Kindermans, head of the Youth department at Anderlecht, gives his opinion.

"Jorn is a great guy. For his age, he is very independent and pro-active. You can see that on the pitch at U17 national coach Bob Browaeys shares my opinion", Kindermans says. "Jorn Vancamp moves very well on the pitch and has a good timing. His goal against FC Barcelona shows that he is a clever player."

Is it time to move him to the first team? "He is not a Kompany, Tielemans or Vanden Borre. I always tell him it is better to come late than not to come at all. As a striker, you need to be excellent at Anderlecht so he shouldn't come too soon. He still needs to work on his power and explosivity."

There might be some opportunities for next season. "There are many friendly matches in the preparation for the season and the best players of the U21 get their chance there. Maybe he can grab his chance, and then it can go quickly. I believe he should target for next season's winter camp."


anderlecht-online forum