Also fine for misconduct fans against Club Bruges
THURSDAY, 18 APRIL 2019, 13:39 - lajoya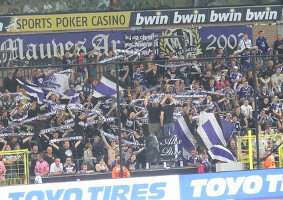 OTHER A few days after the fine for Friday's supporters violence against Standard, Anderlecht now also have to pay a fine for misconduct by the fans during the top match against Club Brugge the previous weekend. Then they used discriminatory chants.
 


On April 4, some of the supporters sang "He is the whore of FCB" about referee Bram Van Driessche. Also 'All farmers are gays' echoed through the stadium at some point. The referee included this in his match report.

The Prosecution Counsel of the Belgian Union is now demanding a fine of 4,000 euros for Anderlecht. Purple & White does not accept this punishment. The Disputes Committee must do the judgment.

According to Anderlecht, these slogans have been around forever and belong to the rivalry between the two clubs. From the Bruges side, 'Jews' would have been called to the Anderlecht supporters. Whether the latter is included is not clear.


anderlecht-online forum