Prosecutor's Counsel demands one game without crowd
FRIDAY, 19 APRIL 2019, 11:34 - lajoya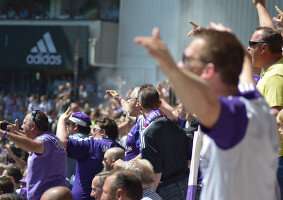 GAMES After the misconduct of a part of the Anderlecht supporters against Standard, the Federal Prosecutor requests a sanction of one game without crowd. Het Nieuwsblad knows that. Anderlecht does not accept this. The case will come at the Disputes Committee on Tuesday.


Anderlecht were informed of the sentence and can now prepare their plea. Het Nieuwsblad learned that the club would appeal if it were actually sentenced to a game without crowd. Given the spotless past in that regard and the fact that the club does everything to calm down the fans, it hopes for a conditional match behind closed doors or even less.

If Anderlecht are condemned to a match without crowd, it will probably try to postpone that until next season through proceedings. Many tickets have already been sold for the upcoming matches. It is better to implement it next season.


anderlecht-online forum