Stassin and De Man in Legends Game
SATURDAY, 18 MAY 2019, 10:49 - lajoya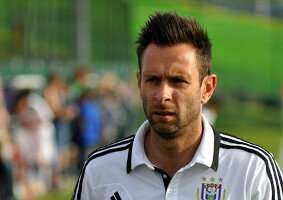 GAMES Eendracht Aalst celebrates its 100th anniversary. On the occasion of this birthday, a Legends Game is scheduled for 15 June 2019. Old glories of Eendracht Aalst play against the old glories of RSC Anderlecht.


The East Flemish club also released some names of the opponent. Stéphane Stassin, Bart Goor, Danny Boffin, Mark De Man and perhaps also Nicolas Frutos will be at the kick-off for Purple & White.

Gilles De Bilde, Vladan Kujovic, Predrag Filipovic, Peter Van Der Heyden and possibly also Edwin Van Ankeren play for Eendracht Aalst.

Kick-off at 7 pm  in the Pierre Cornelis Stadium, Bredastraat in 9300 Aalst.
Source: © Internal source
anderlecht-online forum