Anderlecht beat Tottenham and take second place
FRIDAY, 23 OCTOBER 2015, 09:36 - D.A.B.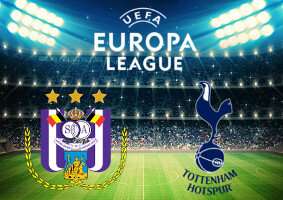 GAMES After the terrible performance in Qarabag, Anderlecht had to win against Tottenham yesterday and they did. The game ended in a 2-1 victory and Anderlecht are now second in the group. Monaco beat Qarabag and lead.

Anderlecht seemed impressed by a good Tottenham, that already scored 0-1 after 4 minutes: Kara kicked the ball against Dendoncker's head and it fell right in front Eriksen's feet. The Tottenham player immediately opened the score. For a while it looked like the English side was going to have an easy night. They had a lot of ball possession and a few more chances. But after 15 minutes, Anderlecht equalised. On a corner kick, Gillet controlled the ball and placed it in the bottom right corner of the goal: 1-1. The home side now got more confidence and took control over the match. More chances followed, but the score line remained unchanged up until half time.

The second half was pleasant to follow. Both teams had chances, but Anderlecht stayed in control over most of the match. Unable to force a breakthrough, coach Hasi decided to bring the fast Acheampong into play. The Ghanese player immediately proved to be problematic for the English defence. His fast rushes over the wing were unstoppable, creating several chances. One of these chances led to the 2-1: Acheampong was sent deep over the wing, centred and Okaka was faster than defender Vertongen and pushed the ball against the net: 2-1. In stoppage time Praet even had an excellent chance to increase the lead, but his effort was stopped by the goalkeeper.


anderlecht-online forum