Strong Anderlecht beaten in the last minutes
MONDAY, 9 NOVEMBER 2015, 08:43 - D.A.B.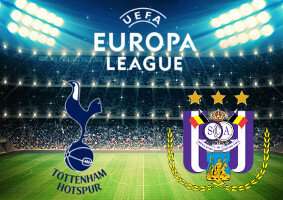 GAMES Anderlecht and Tottenham played an excellent match on Thursday in the Europa League. For a long time, it looked like the game was going to end in a logical 1-1 draw, until Dembele scored with a shot in the upper left corner a few minutes before the end.

Anderlecht and Tottenham kept each other in balance in the first half. Defour and Okaka had several chances during the first 15 minutes, but the home side took control half way the first half. This also resulted in the 1-0 after a rare mistake in Anderlecht's mistake. Kane scored with a good shot.

Anderlecht wanted to win and started the second half with a lot of pressure forward. Defour had a good chance again and Anderlecht's backs regularly demonstrated offensive impulses. This way, Tottenham was was being pushed back on their own half. On a rare counter attack, Tottenham got a free kick and Davies placed the ball on the crossbar.

Coach Hasi gave his team even more offensive power by bringing Ezekiel into play. The striker scored immediately: Defour delivered the perfect centre and Ezekiel pushed the ball against the net: 1-1. The Mauves kept looking for the winning goal, but Tottenham stole the victory in the last seconds. The ball fell in front of Dembele's feet and he placed the ball into the upper left corner: 2-1.


anderlecht-online forum