Investments are paying off
MONDAY, 15 FEBRUARY 2016, 12:10 - Bacardiboy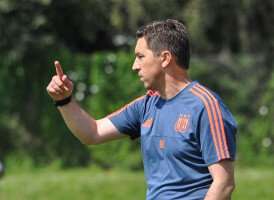 INTERVIEWS - OPINIONS Stéphane Badji, Alexander Büttner and especially Filip Djuricic did not need a lot of time to prove they are an added value for Anderlecht. And most important of all: they seem to bring the Mauves to a higher level.

Badji: balance on the midfield

Badji is not the most sophisticated football player of all, but he had a foot in the first Anderlecht goal last weekend and is a very useful player for the team. "Badji recuperates many balls and makes his team mates play better", is Hasi's opinion.

Especially Steven Defour has more freedom with Badji close to him. "We really needed a player like Badji", is Michaël Heylen's opinion. "Because of him, we can give Leander Dendoncker more time to recover from his injury."

Büttner: race car on the left

Büttner scored a goal against Zulte Waregem and did an excellent job with his everlasting rushes on the left wing.  "I do not understand why he kept going. He knows he is not ready yet to complete an entire match. But I sure appreciate his dedication and attitude", says Hasi.

Djuricic: genius behind the attack

Filip Djuricic is the most remarkable player of all. He has everything to become the best player of the Belgian league. "Filip is a real Anderlecht player", according to Besnik Hasi. "He is attacking, smart, has great passing and works hard to recuperate the ball."

"I don't even think we saw fifty percent of Djuricic's qualities", Deschacht sounds enthousiastic. "I am sure he will become a very useful player for us", reacts Hasi.

Again a team on the pitch

The incoming transfers are paying off and bring Anderlecht to a higher level. It looks like more competition within the squad woke up the entire team, which can only turn out positive for the future.


anderlecht-online forum