Anderlecht easily beat Kortrijk: 5-1
FRIDAY, 12 AUGUST 2016, 21:59 - Skyhawk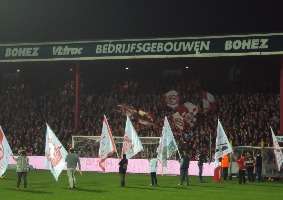 GAMES Anderlecht left a good impression during the first match of the new season in the Vanden Stock Stadium. Especially the second half was impressive, with four goals in favour or Anderlecht. Newcomer Theodorzcyk immediately scored and gave an assist.

During the first half, Anderlecht created some chances with efforts from distance. But it was Kortrijk that opened the score on penalty after Nuytinck had commit a foul with a sliding in the box: 0-1 but keeper Roef maybe should have stopped the weak penalty. Anderlecht reacted well and equalised ten minutes later. After a combination with Teodorczyk Hanni managed to score: 1-1 at half time.

The second half brought a lot of spectacle. Teodorczyk, Chipciu, Defour and Sylla all scored. Kortrijk never really gave the impression it could threaten Anderlecht's superiority and could be happy the Mauves only scored five goals...


anderlecht-online forum