Anderlecht lost points in the 3rd match of the season
SUNDAY, 14 AUGUST 2016, 16:52 - Skyhawk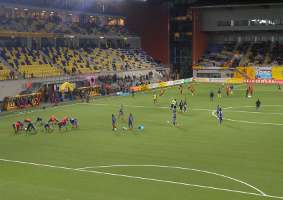 GAMES Anderlecht and STVV kept each other in balance on Friday evening. The Mauves were unable to score against STVV and the score line remained 0-0. Newcomer Teodorczyk started on the bench, but replaced Sylla in the second half. Capel didn't come of the bench though.

The home side was the better team and Anderlecht could be happy with the 0-0 draw at half time. There weren't any large chances at all, but STVV was more dangerous and managed to keep Anderlecht away from their goal. 

The second half wasn't much better. A low pace and lots of bad passes marked the game. Teodorczyk had the best chance late in the match, but the ball was eventually saved from the line. Also a red card for Pulido, did not trigger a final offensive from Anderlecht. That way, a bad match ended in a scoreless draw.


anderlecht-online forum