Anderlecht first team to beat Ghent at home
SATURDAY, 24 DECEMBER 2016, 15:45 - Skyhawk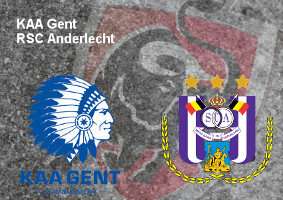 GAMES KAA Ghent suffered their first home defeat of the season. Anderlecht won the clash with 2-3 after an exciting game. Teodorzcyk was decisive for the Mauves with two goals. Chipciu scored the other goal. The Mauves remain third, two points behind leader Club Bruges.

Anderlecht dominated the first five minutes of the match with a chance for Teodorzcyk as a result. But then the home team took control over the match. Perbet tested goalkeeper Boeckx for the first time after 10 minutes. Not much later, Boeckx was nearly responsible for the opening goal. The goalie slipped and left the ball for Moses Simon who hit the crossbar. Halfway the first half, an excellent Ghent opened the score through Milicevic. Anderlecht reacted rapidly though. On a rare counter attack, Bruno found Teodorczyk who headed the equaliser on the scoreboard. With the goal, Anderlecht also regained control over the match. 

Five minutes before the end of the first half, referee Lambrechts sent off Esiti for an imaginary foul. The Ghent player accidently hits Nuytinck, but had the intention to play the ball. The red card was exaggerated, but decisive in the match.

The second half started with a lot of pressure from Ghent and the replacement of Nuytinck who was still suffering from his contact with Esiti. Down to 10 men, Ghent kept looking for the lead, but a good Boeckx kept them from scoring. Also the post helped the goalie on an attempt of Gershon. The goal fell on the other side: Chicpiu stole the ball from Nielsen and allowed Teodorzcyk to score his second of the evening. 

Ghent kept trying, but Anderlecht remained dangerous on the counter attack. When Gershon brought down Teodorzcyk in the box, referee Lambrechts denied Anderlecht the penalty. Yet the third goal follows not much later when a fantastic shot of Chipciu goes into the upper left corner of the goal: 1-3. Teodorzyck and also Hanni were close to score the fourth goal then, but a few minutes before time Lambrechts saw another imaginary foul leading to a penalty for Ghent. Milicevic scores, but the match ends on 2-3.


anderlecht-online forum