Anderlecht beat Ghent and remain third
FRIDAY, 29 DECEMBER 2017, 00:01 - Skyhawk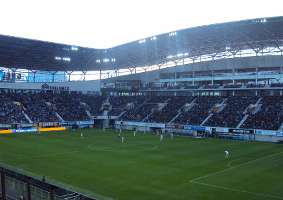 GAMES Anderlecht beat AA Ghent at home thanks to a goal of Sofianne Hanni. The Mauves enter the winter break on the third spot, behind Club Bruges and Sporting Charleroi. 

The entire match wasn't very interesting to following. Both teams struggled to create something offensive and defended well. The only real chance in the first half was for Deschacht with a shot. Gerkens missed the rebound.

The second half brought more of the same. The best chance was for the visitors when Sylla appeared alone in front of goalkeeper Sels, who saved his shot. A bit later, Anderlecht should have gotten a penalty when Amuzu was brought down in the box, but the referee didn't respond. 15 minutes before the end, Hanni scored in the rebound on a header of Dendoncker. Ghent responded with a free kick of Milicevic that went wide. In the last second, Kalu was excluded and Ghent ended the match with 10 players.


anderlecht-online forum