Anderlecht beat Bruges - title race not over yet
MONDAY, 16 APRIL 2018, 13:28 - D.A.B.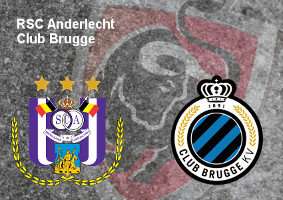 GAMES Anderlecht beat Bruges yesterday after an exciting match. Teodorzcyk scored the only goal of the match with a header. Because of the victory, Anderlecht reclaimed the second place in the ranking (Ghent lost) and are now just three points behind leader Bruges

Bruges had the first chance of the match after just a few minutes of play: Diaby struck the post from a sharp angle. From then on, Anderlecht took control over the match. The Mauves had the most ball possession and created chances. Gerkens tested goalkeeper Gabulov with a shot. A few minutes later, the Brugian goalkeeper made a spectacular save on Sa's header, preventing a goal. Also Teodorczyk was active: he appeared twice in a good position in front of Gabulov, but wasn't able to beat the goalie. The first half ended on a 0-0 draw, after a good first half.

Anderlecht opened the score early in the second half. After a hands ball, Trebel took the free kick and Teodorczyk headed the 1-0 against the net. The stadium exploded and the fans shouted Anderlecht towards a second goal. Saief had a perfect opportunity to double the lead, but he aimed too high from an excellent shooting position.

Brugian coach Leko made a few chances to his line-up then, favouring a more offensive formation. From minute 70 on, the visitors started to create chances by taking more risks. The best chance was for Diaby who appeared alone in front of Sels, but the goalkeeper stopped him from scoring with a good reaction. The Brussels' team lurked on the counter attack now, and Ganvoula (who had replaced Teodorczyk) should have scored when he was sent deep, but Gabulov kept his team in the match. Seven minutes before the end, Diaby equalised but the video referee abruptly ended the Brugian festivities: on the TV images it became clear that Diaby was a few centimetres offside. 

The visitors mounted a final offensive and surrounded Anderlecht's goal, but the Mauves didn't give away any serious chances anymore. That way, the match ended in a 1-0 victory.


anderlecht-online forum