Anderlecht went down in Ghent
MONDAY, 14 MAY 2018, 21:02 - lajoya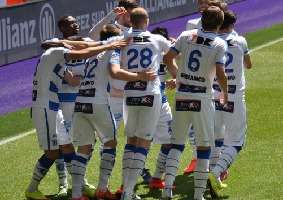 GAMES Anderlecht have lost 1-0 at the Ghelamco Arena. Anderlecht played very poorly, contrary to the game against Standard. A goal by Moses Simon halfway through the second half was sufficient for a win for Ghent.


Ghent started the game best. Anderlecht were nowhere in the opening phase, but took over after fifteen minutes, without being really dangerous. 0-0 was a logical situation after a weak first period.

Ghent came better out of the dressing room again. Again there were not too many opportunities to note. It was the home team that countered to 1-0 halfway through the second half. Jaremchuk served Simon with a precise cross, the Nigerian finished cold-blooded.

Also in the last quarter there was little inspiration from the visitors. Ghent even came closest to a goal. 1-0 was the final score.

Still, Anderlecht can still be second. Standard tied 1-1 against Club Brugge and now has two points more than purple-white. Anderlecht have to win Genk on the final playing day and hope that Standard loses on the field of Charleroi.

Score: 1-0
Goal (s): 66 'Simon (1-0)

Ghent: Kalinic, Foket, Gigot, Bronn, Asare, Esiti, Andrijaševic, Verstraete, Simon, Kubo, Jaremtsjoek
Anderlecht: Sels, Sá (78 'Dante), Spajic, Deschacht, Saelemaekers, Dendoncker, Kums, Saief (15' Amuzu), Gerkens, Morioka (82 'Ganvoula), Teodorczyk

Yellow: Bronn, Verstraete, Dendoncker
Red: /

Referee: Wim Smet
Stadium: Ghelamco Arena.


anderlecht-online forum