Anderlecht winner of the weekend
MONDAY, 12 NOVEMBER 2018, 23:21 - Skyhawk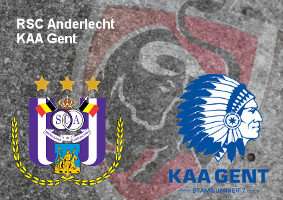 GAMES Anderlecht defeated Ghent with 2-0 and close in on Bruges (defeat) and Genk (draw). Sven Kums scored both goals. Ghent ended the match with 9 players after two red cards.

Coach Van Haezebrouck changed his system to a 4-4-2 formation with Dauda and Lokonga in the line-up. And that strategy was rewarded after just two minutes. Sven Kums could take a free kick and scored beautifully: 1-0. Ghent rapidly took control over the match and created a few chances. The best one was for Limbombe, but Didillon saved. Dauda and Kums had chances on the other side. The visitors' dominance ended though when Verstraete made a harsh tackle on Dauda. After consulting the video referee, the referee showed him a red card. Before half time, both Kums and Yaremchuk struck the post.

Despite being down a man, AA Ghent tried to turn the tide in the second half. Yaremchuk and Limbombe both missed and the goal fell on the other side with a fantastic shot of Kums: 2-0. Ghent's spirit was broken and Dimata, Trebel and Saief all tried to score another one for the home side, without success. In the last minute, Plastun received red as well when he brought down Dimata who had broken through the defence. 2-0 final score.


anderlecht-online forum