Davies: "Antwerp is at least top 3"
FRIDAY, 13 SEPTEMBER 2019, 14:39 - SJonas35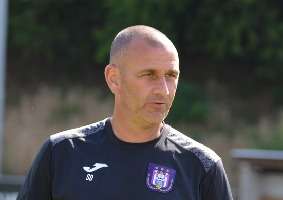 INTERVIEWS Coach Simon Davies spoke with the press in the afternoon about the upcoming game against Antwerp on Sunday (2.30 p.m.). David Steegen took once again a seat next to the coach as a press spokesperson.


Regarding the injured players, Daveies said that Dewaele's injury is not that serious and that he could possibly start Sunday. This match comes too early for ZUlj (nose surgery after Standard), Kompany and Roofe. The latter two can possibly play against Club Brugge the following weekend, but their injury is being monitored very closely. Davies said that both are experienced players who know their own body very well and that no risks will be taken. Davies does think that Sambi Lokonga is ready to play the full 90 minutes, even though he played with the young Red Devils last week.
Davies is - of course - aware of the strength of Atnwerp, naely their physical presence and aggressiveness, but he also said that the statics of Anderlecht are similar within this scope. The preparation for the game was somewhat different because players returned at different times (and because of the game in Manchester). During the break Davies briefly returned to England, where he received some information about Antwerp from former player Danny Higginbotham.
According to a journalist, Nasri didn't really seem fit during Kompany's testimonial. Davies replicated that Nasri has the necessary qualities anyway, but that he was recently ill and therefore missed the game against Standard. In the meantime, he also played with the U21, so his mentality is excellent. Moreover, it is also important for the younger players who have a bit more difficulties and have to sit on the bench or in the stands, for example.
About the lack of the extra attacker (Diagne who was transferred to Bruges in the last instance, ed.), Davies reported that something like this could happen. He believes that a panic transfer usually has no effect and that the whole team believes in the available qualities.
The coach also said that he considered Atnwerp as a team who could end up within the top 3 in Belgium. Anderelcht have now won a top match, and lost one, each with the smallest difference (1-0 won against Standard and 1-0 lost against Gent, ed.). About the arrival of some Red Devils - Kevin Mirallas and Steven Defour - Davies said that he knows that Defour already played in a friendly game. Of course, he can not predict whether Defour will start and whether he will possibly have an impact on the game of Antwerp. Davies respects the opponent and all their players, but RSCA will - of course - give it their best shot.



Source: © Internal source
anderlecht-online forum