Kalulika, Colassin and Daskevics accurate with national team
SUNDAY, 13 OCTOBER 2019, 18:36 - SJonas35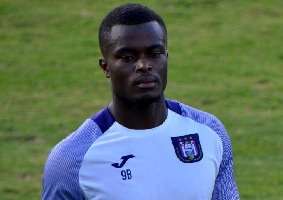 YOUTH Three players from the Anderlecht youth series were effective with their national (youth) team these days. Chris Kalulika (photo), Antoine Colassin and Eduard Daskevics made the nets vibrate.

Daskevics played a European Championship qualifier against the Netherlands with the U19 of Latvia yesterday. They lost the game (8-2). Daskevics played the entire game and scored the final goal.

The Belgian U18 practiced yesterday against their Dutch peers in Oldenzaal. Chris Kalulika opened the score, but Belgium lost 3-2. Marco Kana and Anouar Ait El Hadj also took action.

The Belgian U19 are in Spain for two friendly duels. Yesterday they played a 2-2 draw against France. Antoine Colassin opened the score from the spot. Lucas Lissens also played.

On Wednesday, the Belgian U17 already won their first European Championship qualification match 12-0 against Liechtenstein. Nils De Wilde scored twice, Samuel Mbangula Tshifunda once. Anthony Descotte, who exchanged Anderlecht for Charleroi this summer, kicked four in the net. Zeno Debast and Alonzo Engwanda also participated.


Source: © Internal source
anderlecht-online forum