Women's team won convincingly against Club Brugge
SATURDAY, 19 OCTOBER 2019, 16:23 - SJonas35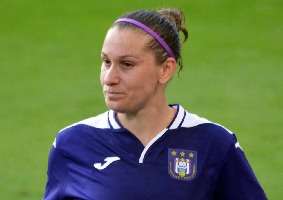 DAMES Anderlecht wins against Club Brugge with a forfait score. The ladies from Anderlecht keep their perfect report of 12 points out of 12.

Its was 5-0 against Club Brugge yesterday evening. The Anderlecht ladies quickly took the lead in the game: Merchiers only needed 1 minute to score on an assist of Vatafu. A few moments later, the women of Bruges were dangerous in the attack, with a shot at the bar as a result. Also one of the few chances Club Brugge could create in this game. Anderlecht threatened a lot in front of Club Brugge's goal, including a header by Tison. Eventually they went into the break with a deserved 1-0 lead.

Shortly after the break, De Caigny scored the 2-0 after a blunder from the keeper of Bruges. Just before the hour, Rus (photo) kicked the ball into the goal via the post. Less than 5 minutes after the 3-0, De Frère managed to score the 4-0 with her first goal for Anderlecht. Fifteen minutes before the end, on an assist of Wijnants, Rus ticked the 5-0 final score on the board. With this, Anderlecht has won their 4th game of the season and they keep the maximum of the points. Now there are 2 away matches against the numbers 2 and 3 of the rankings (Standard de Liège and Genk respectively).


Source: © Internal source
anderlecht-online forum