Another fine for RSC Anderlecht
WEDNESDAY, 6 NOVEMBER 2019, 19:24 - lajoya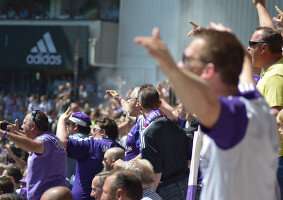 OTHER RSC Anderlecht today received another fine for smoke bombs in the stands. The facts date from October 20, 2019 during the match against Sint-Truiden. After Kemar Roofe's 3-1, a white smoke bomb went off in the stands. The facts did not influence the game.
 


Nevertheless, the club was again fined for 2.500 euros. The football association is strict in the field of pyrotechnic material and has implemented a zero tolerance policy.

RSC Anderlecht defended themselves in front of the Disputes Committee and argued that it had already taken various measures. Supporters who are caught with fireworks in the stadium get a stadium ban. The club will soon start with an improved camera system in the Lotto Park.

But their arguments were not effective, the Purple & White were still fined 2,500 euros, of which 1,000 euros with deferment.


Source: © Internal source
anderlecht-online forum