Vercauteren: "We are evolving in the right direction"
TUESDAY, 10 MARCH 2020, 14:45 - lajoya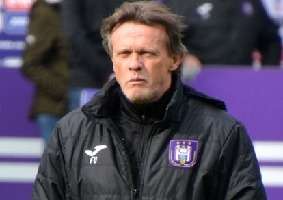 INTERVIEWS Of course, after the 7-0 victory against Zulte Waregem, we saw a happy Frank Vercauteren at the press conference. He sees his team doing beautiful things in the last games. "We are moving in the right direction, so I can only be satisfied with the performance of the team."


"I saw a lot of great things and we were very efficient. I have to congratulate the group for their achievement," Vercauteren said on his press conference. "We were present in the game and have several guys who are very efficient with assists and goals. We are moving in the right direction, so I have to be satisfied with the performance of the team."

He also saw work points. "The first twenty to twenty-five minutes of the first half were not what it was supposed to be. Of course we were helped by the first goal. We had everything in our hands, but let Zulte come back into the game That should be better and that we indicated at halftime. The players picked it up and after the break it was better. We grew and gained confidence. "

"The points count"

Is the believe in Play-Off 1 back? "I don't think it has ever changed," said Vercauteren. "We are not talking about Play-Off 1. We are playing for it. Faith has never disappeared as long as it is possible. We remain in the running, but first we have to do what we have to do in our last game. Only then can we possibly think about Play-Off 1. "

A journalist wanted to know if Vercauteren would not be disappointed given today's performance should Anderlecht not get into Play-Off 1. "Yes, but they will also say that in Mechelen and Genk. But that is simply the reality: the points count. If we have fewer points than another, we will not be there. That is a pity, but the reality "

Does Vercauteren find it inexplicable that Anderlecht lost points against clubs like Ostend, Eupen and Kortrijk? "No, that is not inexplicable," Vercauteren replied. "There are many reasons for this. We did not bring enough quality and, in particular, too little efficiency throughout the series of matches. Sometimes we were the better ones, but we could not convert that into goals."


Source: © Internal source
anderlecht-online forum