Red Flames qualify for Euro 2022
WEDNESDAY, 2 DECEMBER 2020, 19:55 - lajoya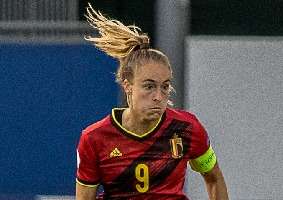 DAMES The Red Flames have managed to qualify for the final round of the European Championship 2022 in England. In the last group match, Switzerland was sent back to the Alps with 4-0. The Purple & White share in the victory was big.


Belgium wanted to win the last game, but in the beginning of the game it was Switzerland who had the ball without chances. In the 25th minute, Wullaert found De Caigny in the penalty area, who headed the ball in, a Purple & White combination. The same combination just before half time. Wullaert again served De Caigny and Belgium led with 2-0 at half time.

After the break, Belgium continued to control the game and Wullaert scored the 3-0 with a header, the third Anderlecht goal of the evening. In the final phase, Cayman made it 4-0. A great performance by the Belgian ladies who qualified for the final round of a European Championship for the second time.


Source: © Internal source
anderlecht-online forum