Sambi Lokonga refused a loan and worked hard in the background
TUESDAY, 13 NOVEMBER 2018, 20:17 - lajoya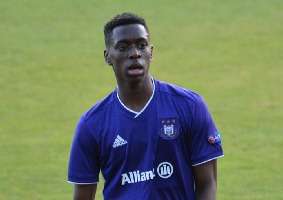 YOUTH The last matches Albert Sambi Lokonga once again stuck his nose at the window. In fact, he always was one of the best players. Many wonder why the midfielder only now made his first minutes of the season.


Around the winter break of last season, Sambi Lokonga made his debut for the first team of Anderlecht. He immediately showed his good feet, but was not strong enough They also saw that at Anderlecht and so the 19-year-old went into the waiting room. The outside world wondered whether the many acquisitions would not slow down his development, but Sambi Lokonga knew what he was doing. When his environment proposed a loan in the summer months, he refused. He wanted to develop at Anderlecht.

And he did. In the past months, Sambi Lokonga has won no less than ten kilograms of muscles. Insiders believe that he can still gain strength. Because of his physique Sambi Lokonga is a late bloomer. In the youth he often sat on the bench, only when Emilio Ferrera became coach of the U21 he won a starting place. Ferrera fully believes in the qualities of the midfielder. He compares him with Yaya Touré, with whom he worked at Beveren.


Source: Het Laatste Nieuws (Pieter-Jan Calcoen)

anderlecht-online forum