Is Vanden Borre working on a new comeback?
WEDNESDAY, 13 FEBRUARY 2019, 15:23 - lajoya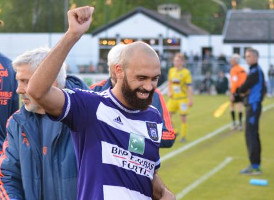 OTHER It remained silent for a long time around Anthony Vanden Borre. After his adventure at TP Mazembe, which also did not deliver what he expected, it remained silent around the 'Ket'. Until now. Vanden Borre himself would have taken the initiative to get back in shape physically.


Vanden Borre went to Dubai for the 'Star Agency Sportmanagement' of Christian Wilhelmsson, the Swede has a fitness company that guides top athletes.

Wilhelmsson also confirms that Vanden Borre worked hard for five weeks and trained to be in physical shape again. "Anthony himself has taken the initiative to come here, he feels good about it and now wants to train again. He bites his teeth every day, but he still has qualities, both technically and physically. And I can know it because I also coach players from the Premier League. If he thinks of a comeback, you have to ask him yourself. "


Source: © Internal source
anderlecht-online forum