Doubts about Rutten, Storck in the picture
WEDNESDAY, 13 MARCH 2019, 09:09 - lajoya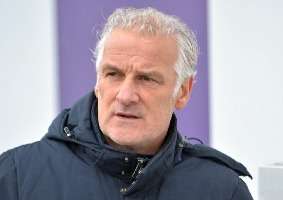 OTHER Although Michael Verschueren said on Sunday that Fred Rutten can stay if he wants to, this is far from certain. That is what Het Nieuwsblad writes. Does Rutten want to stay and does his method also work next season? Meanwhile, the name of Mouscron coach Bernd Storck also falls.


Het Nieuwsblad knows that Rutten didn't really want to come in December. He was working on another project, but that could wait, he finally decided. He had nothing to lose at Anderlecht. Did he get Play-Off 1 or even European football: he did a good job. Did not succeed: the core was too weak to do anything with.

His method: always supporting six players

Rutten nevertheless opted for purple and white and immediately plotted his lines. The players were physically okay, so he started training lighter. In this way he wanted to give the players back their gaming pleasure. He also chose six, mostly experienced, players whom he would support through thick and thin: Didillon, Kara, Obradovic, Kums, Bolasie and Verschaeren.

However, it is not all perfect. Youngsters Saelemaekers, Cobbaut, Amuzu and Doku disappeared under Rutten to the second plan. To the outside Rutten looks the jovial, quiet Dutchman, but he can be tough inside. Also for the people of his staff and the physiotherapists.

Rutten to Twente? Hjulmand or Storck to Anderlecht?

The method of Rutten is currently proving its validity. Players like Kara, Didillon, Verschaeren and Bolasie reach their best form, the game goes up and the points follow. But is this method also workable next season? And if Rutten stays, he gets his say in the transfers? Then there is something at stake next season.

So Het Nieuwsblad asks whether Rutten will stay after the season. Will he resume the winter project? It is not known what this is, but it may be FC Twente. Rutten's eternal love is close to a return to the Eredivisie, but the game is not good. When Rutten leaves, the name of the Danish coach Kasper Hjulmand reappears. The one of Mouscron coach Bernd Storck also appears ..
 


Source: HNB (Jürgen Geril)

anderlecht-online forum