"We are going to need Saelemaekers"
TUESDAY, 19 MARCH 2019, 10:25 - lajoya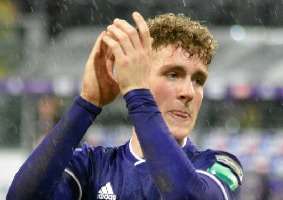 INTERVIEWS Alexis Saelemaekers is more on the bench than he would like. Under Hein Vanhaezebrouck he was a fixed value, now he is a sporadic substitute. Dennis Appiah advises the young defender and says he shouldn't despair yet.


Fred Rutten prefers 'real' defenders and as a result Saelemaekers has dropped to the third in the ranking. Appiah showed him and is now at number 1. "It is also a surprise for me, but Alexis and I have a very good understanding. He still has to take defensive steps and I try to help him in that. But that also needs time "Appiah admits.

"But above all, he should not give up hope, we are going to need him in the play-offs. Of course, it is not easy for him now, and nobody likes that. But he has to get back. Everyone says that he is the future of Anderlecht and I think the same", says the defender.


Source: © Internal source
anderlecht-online forum