Striking: analysts show understanding for actions of the fans
SUNDAY, 14 APRIL 2019, 19:30 - lajoya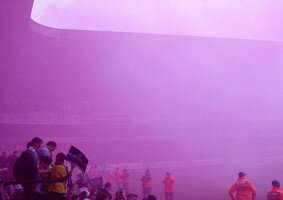 OTHER Olivier Deschacht, Geert De Vlieger and Marc Degryse were guests in the Play Sports studio. Remarkably, the analysts present were able to understand the action of the Anderlecht supporters. Although they do not approve it.


De Vlieger said it already in the first phase when the game had to be stopped for a few minutes: "The supporters know that nothing can help their team. So they try to get the fire in it in that way."

Even when the game was completely stopped, no bad word between the analysts. They think it is logical that the supporters react after they have had to look at an awful Anderlecht for a whole season. Although they don't like the way in which they have expressed their dissatisfaction.


Source: © Internal source
anderlecht-online forum