"It could be worse, believe me"
MONDAY, 15 APRIL 2019, 08:46 - lajoya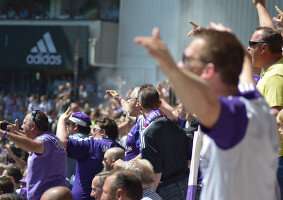 OTHER A match that is stopped by flares, we don't see it often in Belgium and certainly not from RSC Anderlecht. In the meantime, the images go around the world and yet things could get worse, says an anonymous member of the hard core of purple-white.


It was clear that the action was prepared. The supporters knew they were running the risk of stopping the match, but they just took it. Because they are tired of it. Because something had to happen. Because this is no longer possible.

"Of course we had agreed this and of course it would not have happened if we were ahead in the game. And believe me, it could be worse, part of the hard core is missing. What Standard supporters did with Proto, with Defour, was ten times worse, and yet those matches were not stopped. But it was time for a statement, time for a change. Because the Anderlecht train was completely derailed. "


Source: © Internal source
anderlecht-online forum