Sanneh: "Want to prove that I have my place here"
TUESDAY, 14 MAY 2019, 19:41 - lajoya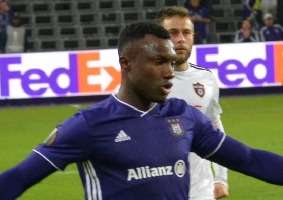 INTERVIEWS Kara Mbodji is struggling with a back injury, so Bubacarr Sanneh was allowed to start again in the starting eleven against Antwerp. The Gambian admits that the situation at RSC Anderlecht weighs on him but he does not think about leaving.


"I have indeed had a frustrating period", Sanneh is honest. His last competition game was in December 2018: "But that does not mean that I am giving up here. I want to prove that I have a place here at Anderlecht. I don't see Kara as a competitor either, I also get a lot of support from him."
Source: HLN (MJR)

anderlecht-online forum