Fanshop closes soon
THURSDAY, 23 MAY 2019, 21:42 - lajoya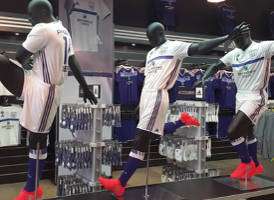 OTHER Currently there are still big discounts (-70%) in the fanshop on all Adidas items. After all, everything has to go to make way for Joma's products. The fanshop will therefore close its doors for a few weeks to give the inside a new facelift.


Until Saturday 25 May you can normally visit the fanshop, after which it will close the doors for a few weeks to adjust everything to the new clothing sponsor Joma. The closing period is provided for three weeks.

The exact date of reopening is not yet known, that depends on RSC Anderlecht. Perhaps that will be somewhere in mid-June when the new Joma jerseys are presented. The date of 14 June for the presentation of the new jerseys is circulating on social media.

Three days later, on June 17, the players are again expected at Neerpede for the start of the preparation for the new season.


Source: © Internal source
anderlecht-online forum