Saelemaekers: "My heart is here"
TUESDAY, 23 JULY 2019, 16:22 - lajoya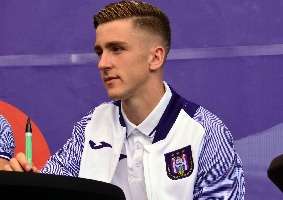 INTERVIEWS Alexis Saelemaekers was not very happy at the end of last season. He was given too little playing time and did not agree with that, but he never thought of a real departure: "My colors are purple and white."


The arrival of Vincent Kompany has changed a lot at Anderlecht, also the position of Saelemaekers and he feels pretty good about that. "Kompany knows how to convey a message, he is a legend in the dressing room, just like Nasri. The bar needs to be raised and I just have to be top at every training," Saelemaekers is honest.

Saelemaekers was nevertheless on the list of possible players leaving, although that was not really necessary. Only with a good offer talks would be made. Jean Kindermans was the youth director, who opposed this. "I believe in Saelemaekers. Technique, speed, creativity: Alexis has it all. He has a future here."

 "My colors are purple and white. I am happy with that. What the outside world proclaims is not my problem. I concentrate myself on Anderlecht," Saelemaekers continues.

Kompany nowadays puts the youth product on the left wing, but Saelemaekers also has no problems with that: "That place suits me, although I don't know if it will be my final position. That depends on the coach. But whatever it is, I feel good at the moment. "


Source: HLN (PJC)

anderlecht-online forum