Mbokani: "I have been waiting for Anderlecht"
SUNDAY, 15 SEPTEMBER 2019, 11:21 - lajoya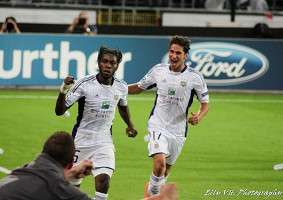 INTERVIEWS Dieumerci Mbokani will play again in the Astridpark. Not with Anderlecht, but with FC Antwerp. If it depended on the Congolese, he would have signed with Anderlecht in the summer. "Anderlecht is my home."


Flashback to the end of May: Mbokani announced not to renew its contract with Antwerp. His name fell with Anderlecht and many fans were hoping for a second return. "I was free and they only had to contact me", Mbokani tells in the newspapers. "I didn't speak to them myself, but my agent did. I waited for Anderlecht, but nothing came out." Mbokani assumes that his age was the problem.

It is clear: Mbokani would have liked to have played for Anderlecht this season. "If you look in Belgium, then I am the ideal striker for their system. I can keep track of the ball, dribble, ... anything. Anderlecht could certainly use me. Actually they still have to look for a striker in January and that's strange."

So not purple and white this afternoon, but red and white. What if he would score in the Astridpark just like last season? "Then I don't think I'm going to cheer."
 


Source: © Internal source
anderlecht-online forum