'Rough diamond' Yaya Guindo signs professional contract
SUNDAY, 13 OCTOBER 2019, 18:16 - SJonas35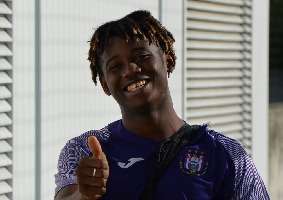 YOUTH Mohammed Yaya Guindo has signed his first professional contract with Anderlecht. The striker celebrated his 16th birthday on 1 August and recently became top scorer at the U17 tournament of Inter Milan. "He is a real, rough diamond that scores easily", is how Jean Kindermans describes Yaya Guindo.

Yaya Guindo came to Anderlecht two years ago and this season things are suddenly going very fast. The Belgian with Malian roots started the preparation at the U18, but soon made the switch to the U21. At the end of September he was allowed to play with the A-team in the friendly match against Roeselare. He made a good impression and even scored.

The 16-year-old striker now sees his evolution rewarded with a professional contract. "We are happy that a player with the qualities of a real striker from our youth academy can resist the pressure of foreign clubs. He consciously chooses RSC Anderlecht and the youth project that we have developed here," says sports director Michael Verschueren at RSCA.be.

Jean Kindermans, head of youth education, calls Yaya Guindo a "real, rough diamond". "We work hard together to have it developed. Of course there is still much to be improved, but he scores easily and that is a rare quality", concludes Kindermans.


Source: © Internal source
anderlecht-online forum