Sambi Lokonga: "Everything will be fine"
FRIDAY, 18 OCTOBER 2019, 09:21 - lajoya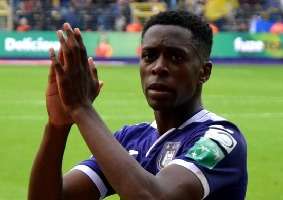 INTERVIEWS Albert Sambi Lokonga is close to a contract extension, he says in Het Laatste Nieuws. He also emphasizes that his brother Paul-José Mpoku is not his agent, Stijn Francis takes on that task. He is also convinced that RSC Anderlecht will be fine.


"Paul-José is not my agent, he was just there as a big brother. Logically he wants the best for me. And that is staying at Anderlecht", Lokonga is immediately honest.

The supporters will be happy because, according to the midfielder, the negotiations are going in the right direction: "It will be fine anyway."

Also with the club everything will be fine according to Sambi Lokonga: "I give us 6 out of 10 for the past few months. Too much? I don't think so. We were dominant almost every match, that is why, in the dressing room, we always continued to believe. "

"And now we have Vercauteren", the player continues, "His input will teach us a lot and he will help us. We first have to put down a series. In any case, play-off 1 remains the goal."


Source: HLN (PJC)

anderlecht-online forum