De Caigny scores for Red Flames
SUNDAY, 10 NOVEMBER 2019, 11:22 - lajoya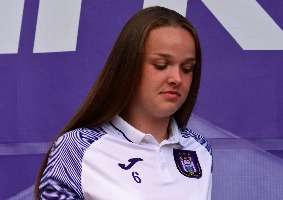 GAMES - DAMES The Red Flames have won with 1-4 on the field of Croatia. Anderlecht players De Caigny, Deloose and Deneve played the entire game.


The Red Flames started with a 6/6 in the 3rd qualifying round for the European Championship of 2021 in England. Three Anderlecht players started the game. De Caigny stood on the ten, while Deneve and Deloose were in defense.

After fifteen minutes, Belgium received a penalty for a fault on De Caigny. Wullaert nicely converted the penalty. Just before half an hour, De Caigny kicked the ball on the crossbar. But only 3 minutes later Philtjens gave the Belgians a 0-2 lead. 5 Minutes before halftime, Lubina scored for Croatia. 1-2 at halftime in favor of the Red Flames. The second half starts well balanced, but it is Philtjens who makes her 2nd goal point of the evening on the hour. 10 minutes before the end, it is Anderlecht player De Caigny, who heads in 1-4 on a pass from Wullaert. With a 1-4 final score, the Red Flames keeps the maximum of the points after 3 games played. Together with Switzerland, they are in the lead in a group with Romania, Lithuania and Croatia. On Tuesday, the Belgians will play against Lithuania at home.


Source: © Internal source
anderlecht-online forum