Makarenko is fit again and dreams of European Championships
SUNDAY, 24 NOVEMBER 2019, 12:12 - lajoya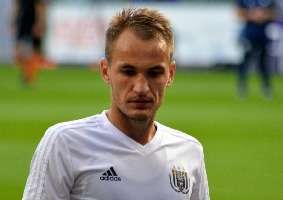 INJURIES Almost a year after his last game, Evgen Makarenko is fit again. Still, he will not be there when Anderlecht play against his former club Kortrijk. Makarenko is on a dead end in Brussels and is looking for a new club. Because in June he wants to be there at the European Championship.


Makarenko already had problems at his arrival in Anderlecht in the summer of 2018. Partly due to injuries from first Sven Kums and then Adrien Trebel, Makarenko played twenty games for the Purple & White. He did this with injections to limit the burden on the heel. December 2 he played his last match. Then it didn't work anymore.

Shame, because two weeks before his last match at Anderlecht, Makarenko played 83 minutes in the friendly game between Ukraine and Turkey. The matches before, he was already in the selection. Makarenko seemed to have his place with the national team.

For almost a year, the heel would keep Makarenko off the field. All the time the outside world barely knew what was going on. But friction between the Achilles tendon and the bone always caused inflammation. Eventually Makarenko would get surgery in May.

Makarenko has been training again since the beginning of November. He gains rhythm in friendly games. However, a spot in the match selection is far away. But Makarenko dreams of the European Championship. A loan or final transfer in January will be the best solution for this.


Source: © Internal source
anderlecht-online forum