Emmen: "Trust that we have achieved a good transfer with Adzic"
SATURDAY, 25 JANUARY 2020, 23:34 - lajoya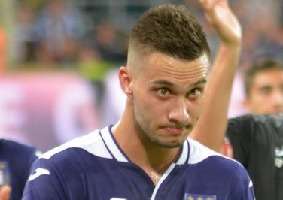 INTERVIEWS Luka Adzic has been training since yesterday with FC Emmen, his new rental club. He will not play immediately, his work permit will be in order in two or three weeks. But that didn't stop Emmen from renting him. "We weighed up the qualities he possesses and they are unmistakable there," says Ronald Lubbers, Chairman of the Board.


Luka can be used at all positions in the attack, but he prefers to play on the left," says Lubbers at RTV Drenthe. In recent months, Emmen has often played with Marko Kolar or Jafar Arias as the front left, but for neither of them is their best position. "The loan of Adzic is a great deal for both Anderlecht and for us," Lubbers continues. "Adzic is a talented guy who just has to play. We are confident that we have brought in a very good one."

"We only pay Adzic if work permit is in order"

Before he can play, Adzic must be given the green light from the Immigration and Naturalization Service (IND) as a non-EU citizen. "That will take two or three weeks. If things are not going well, four," said Lubbers. "We have made clear agreements on this with Anderlecht: we will not pay Adzic until he can play. But because he was already playing in the EU, we do not expect it to last extremely long."

The question is why Emmen picks up a player who is not immediately employable. "You have to consider everything and Adzic has many qualities. The fact that we were able to make agreements with Anderlecht about the financial picture in function of the waiting time at the IND also plays a role."

"I will be one hundred percent next week"

Adzic himself also spoke briefly with the local medium. "I hope to make some goals and deliver assists. The two or three weeks that I have to wait for a work permit are good to prepare for the games. I am not completely fit yet but will be fine when I can play. "

Adzic was also quite tired after the first training. "I didn't train at Anderlecht for the past five or six days because I had to arrange everything. Next week I will be one hundred percent.


Source: © Internal source
anderlecht-online forum