Vercauteren: "We gave fans what they deserve and expect"
WEDNESDAY, 26 FEBRUARY 2020, 09:44 - lajoya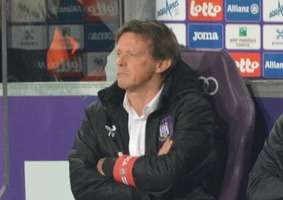 INTERVIEWS A satisfied Frank Vercauteren spoke to the press after the match against Eupen. His players gave the answer he expected after the defeat in Mechelen. "This victory gives confidence, but we are not talking about Play-Off 1 yet," said the coach.


"We can be very satisfied with the way today," the coach began. "If you look at the whole, then you can see that we were much more efficient compared to last week in different areas. In the past week we had also emphasized efficiency in the discussions. I am therefore very satisfied with the performance and the fact that we score six times. "

"We gave the supporters what they deserve and expect. That is not possible every week, but today the circumstances were not too bad. We quickly made the difference and faced ten people. That changes things, but we forced it ourselves. Congratulations to all my team. Everyone took their responsibility. "

"Preparation of big value for Murilllo"

With a goal, an assist and another strong performance, Amir Murillo again demonstrated his added value. Is Vercauteren surprised that this winter transfer is immediately so important? "He has had time to walk in," Vercauteren refers to the fact that Murillo has been training with the group since the beginning of December. "He could already train, had no pressure in the beginning and could integrate quietly."

"Murillo was able to record everything before he was eligible to play. That was important. Other boys arrive without preparation and without many playing minutes and have to perform immediately in a team that they have to discover. That does not detract from his qualities, but the more time you have get someone to fit in, the better it is for that player. He did very well. "

 The third winter transfer made its debut today with Marko Pjaca. "His performance was satisfactory, but I also saw working points. They were already there in the beginning. I am satisfied, but I think he can do better," said Vercauteren.

"Play-Off 1? Just look at ourselves"

The gap with sixth place is now four points. There are still nine to win. How does the group of players view Play-Off 1 or 2? "We don't talk about that for a second. We only talk about the match that comes and that we do what we have to do. Then we will see where we end up. The past week's priority was Eupen, next week that will be Waasland-Beveren and so on. Then we can say whether we play Play-Off 1 or not. Speaking or thinking about Play-Off 1 now would mean skipping stages. We can't afford that. "

Does Vercauteren not swear when Genk and Mechelen win? "They would blame me if I cursed if they win, I worked at both clubs," laughed Vercauteren. "I think you should look at yourself. The others do their very best. I have no problem with that, although you sometimes want to see the results differently. But I look at my team. If we don't get there , it won't be the other teams' fault. "

"This victory gives a lot of confidence, but also obligations and extra responsibilities to be there again next week," said Vercauteren. "I saw Waasland-Beveren play Saturday. We will probably see another opponent next week (Beveren also fired his trainer). We know what those guys are going to fight for. We must be prepared for that. We must focus on that and everything else. is a goal, but not the first focus. "


Source: © Internal source
anderlecht-online forum