"We are disgusted and the new bosses will feel it"
MONDAY, 23 MARCH 2020, 10:20 - lajoya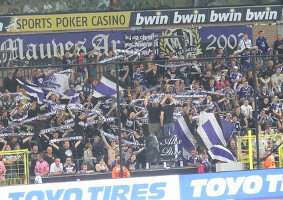 INTERVIEWS Anderlecht's Fan Board reacts furiously to the dismissal of Pär Zetterberg. "There are no matches or training. So apparently they think there will be no protest. Well, when the league resumes, it will be hot," it sounds.


According to the Fan Board, every Anderlecht supporter is disgusted by the dismissal of Zetterberg. "Certainly because of the moment when this happens. We do not understand," it says in Het Laatste Nieuws.

The Fan Board notes that Zetterberg provided the board with great services. "The fans looked up to him, he was able to keep us under control. When things got tough, he turned the board over." However, that was not in his job description. " The Fan Board greatly appreciates Zetterberg explaining to the supporters when they needed it. "It is incomprehensible that the club puts such a person aside."

"Zetterberg has the Anderlecht DNA. He guarded our values ​​and standards. If the board dares to fire him, everyone should fear for his job. Who will be next? Kompany? Verschueren?", According to the Fan Board. "We are really disgusted, the new bosses will feel that."


Source: © Internal source
anderlecht-online forum