Didillon: "At the right place at the right time"
WEDNESDAY, 1 APRIL 2020, 14:19 - lajoya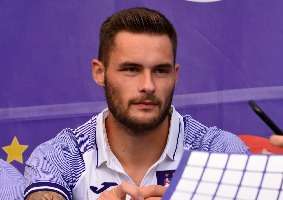 INTERVIEWS Racing Genk has a purchase option on Thomas Didillon, the goalkeeper naturally hopes that the Limburgers will use it. At the moment, like all players, he sits at home and works out a training program there. But in general he has a positive feeling about his loan.
 


"I came to Genk in January to become a permanent fixture in the team. They needed it and I answered that question. I hope so. Although I generally have a positive feeling," said Didillon.

"What will happen in the end remains a big question mark. I feel that I have done more than my best, but the decision remains with the club. Hopefully they also have a positive feeling because it is a really good club where I can grow further. Our goalkeeper coach is fantastic. But we do see what the future holds. At least I have the feeling that I am in the right place at the right time, despite the current circumstances," said the French goalkeeper.


Source: © Internal source
anderlecht-online forum