RSC Anderlecht and Max de Jong separate
THURSDAY, 21 MAY 2020, 14:00 - lajoya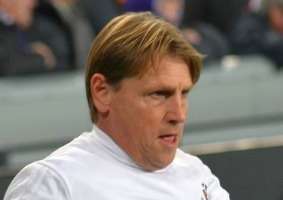 OTHER RSC Anderlecht and goalkeeper coach Max de Jong separate after mutual consultation. De Jong has been goalkeeper coach at Neerpede for the past eight years. After the arrival of Jelle ten Rouwelaar, his position was already in question. De Jong says goodbye to players and fans on Facebook.


Max de Jong had an other one-year contract with the Purple & White, but since he would become redundant after the arrival of ten Rouwelaar, there was talk of putting him with the youth for another year. But it doesn't get that far. On Facebook de Jong says goodbye and thanks Roger Vanden Stock and Herman Van Holsbeeck.

"After 8 years of RSCA, the collaboration comes to an end. I will never forget the chance I got from Herman Van Holsbeeck and Roger Vanden Stock. Thanks to all KEEPERS, players, staff and employees with whom I shared tears of joy and sorrow !!!!"


Source: © Internal source
anderlecht-online forum