Danish interest in Dauda
TUESDAY, 7 JULY 2020, 12:49 - Macuz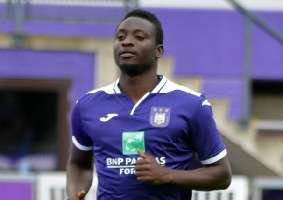 TRANSFERS Mohammed Dauda was unable to save Esbjerg from relegation, but the Ghanaian striker has played a role in other Danish clubs. That says his agent Jan Rasmussen. "Two or three clubs have reported," it seems.

"Dauda feels he can do well in Denmark. The tactical level is good, he learned a lot, especially with coach Troels Bech", says Rasmussen on Bold.dk. "Dauda also likes the country and culture. He would like to stay here. Two or three clubes have asked, but there is still nothing concrete".

Esjberj hired Dadua from Anderlecht the last season. Purple & White is not waiting for the striker return. Because he only has a one-year contract, Anderlecht is not asking a grand prize, says Rasmussen. "Anderlecht is open to dialogue. It is possible, but also a final transfer".

"When the right price is on th table, they want to sell him", said Rasmussen. "It's not about millions. No numbers have been mentioned, but I think most Super League clubs can handle it financially".


Source: © Internal source
anderlecht-online forum