"Return to Anderlecht as number six"
THURSDAY, 30 JULY 2020, 08:45 - lajoya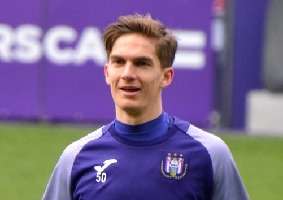 INTERVIEWS Sieben Dewaele has completed his first training at Heerenveen. The 20-year-old midfielder hopes to learn a lot and to return to Anderlecht through the big gate. "I want to develop as a midfielder, that is my favorite position", according to Het Laatste Nieuws.


At Anderlecht, Dewaele played as inverted wingback last season. "I am grateful to Anderlecht for the opportunities in that position, but everyone wants to play in their favorite position. For me, that is in midfield," said Dewaele. "I want to play a lot at Heerenveen, learn a lot and then return to Anderlecht more strongly. Preferably as number six."

Dutch football is ideal for him, he says himself. "I like to pick up the ball and then divide the game. To play football," he says. "Heerenveen tries to play good football and to put pressure on the opponent. That really appeals to me. This club is known for the fact that young players can develop well there. The picture is right for me."


Source: © Internal source
anderlecht-online forum