Pictured: Anelka's son is training with Anderlecht
MONDAY, 10 AUGUST 2020, 16:07 - Nostak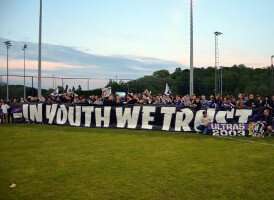 YOUTH Since a couple of days, Nicolas Anelka has been spotted on the Anderlecht training grounds. The former strikes of 'Les Blues' is letting his son Kais train with Anderlecht's U13-squad. Tactically, Kais isn't yet on the same level as his teammates. However, he has shown a few nice skills already.

A collaborator from our French redaction has seen Kais Anelka play for about twenty minutes in our youth friendly against Sint-Truiden. On the right-flank he showed some of his main skills, like pace and technique. Our collaborator managed to talk a few minutes with Nicolas Anelka en he told Anderlecht is making a decision concerning Kais future with Anderlecht.

Just like Vincent Kompany and Craig Bellamy, Anelka has a history at Manchester City. Although the Frenchman didn't play in the same era as the Anderlecht-duo. Anelka played for the Citizens between 2002 and 2005. Kompany and Bellamy played there later. Earlier this pre-season was Stephen Ireland's son training with the Anderlecht youth-teams.

Nicolas Anelka played in his career for clubs like Paris Saint-Germain, Arsenal, Real Madrid, Liverpool and Manchester City. Kais' mother is Belgian choreograph Barbara Tausia. Tausia, who is born in Charleroi married Anelka in 2007.

In 2006 she founded the event and Public Relations company with her business partner Between in Paris. Between Agency has several clients such as Adidas, Quick, Sony Ericsson, Reebok, Paris Saint Germain F.C., and American celebrities such as P. Diddy, Jay-Z and Timbaland. Between also takes care of Nicolas Anelka's press and public relations.

Currently there is a Netflix-documentary airing about Anelka's career, it is called: 'Anelka, l'incompris.


Source: © Internal source
anderlecht-online forum