Bassegio: "Trebel should be in the first eleven"
FRIDAY, 14 AUGUST 2020, 09:53 - Nostak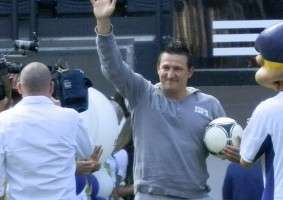 GAMES - INTERVIEWS Walter Bassegio (picture) is speaking up for Adrien Trebel in an interview with 'HLN'. "Trebel should always be in Anderlecht's starting eleven. He has a positive aggressiveness in his game and he's also a lot more forward thinking than Peter Zulj. The midfield was standing way too in the last game against Mechelen. For a team like Anderlecht that's out of the question", Bassegio said.

On the other hand, former Anderlecht coach Aad de Mos doesn't think it would be smart to make a lot of changes after only one game. He thinks Michel Vlap and Peter Zulj have the quality to turn things around in the midfield area.
Source: hln.be

anderlecht-online forum