Martinez: "Verschaeren is a very, very talented player"
THURSDAY, 10 OCTOBER 2019, 16:20 - lajoya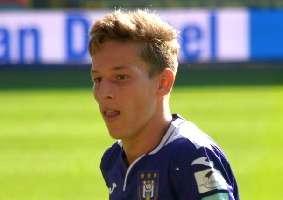 INTERVIEWS At the beginning of September Yari Verschaeren received his first selection with the Red Devils. He was also allowed to immediately play against Scotland. And there was a lot to do because he kept Hans Vanaken on the bench. National coach Roberto Martinez explains his choice.


"I have been following Yari very closely for over a year. We are talking about a very, very talented player here," the national coach immediately praises, "If you look at his past years, you can see that he has always adjusted very quickly to any level. He was very young when he came to the fore. I help him to continue his path. "

Red Devils

In September Verschaeren moved on from the national U21 to the Red Devils: "As a logical consequence of his performance. I wanted to give Yari his first cap. Vanaken received it a year ago. Vanaken is also a specific football player, his role will depend on the needs of the team. At that position, Verschaeren is more versatile. "


Source: HLN (Stephan Keygnaert)

anderlecht-online forum