Verschaeren: "Teammates wanted me to take the penalty kick"
FRIDAY, 11 OCTOBER 2019, 14:34 - lajoya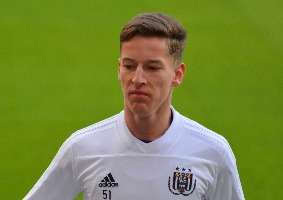 INTERVIEWS What an evening for Yari Verschaeren. Against San Marino he showed himself with a strong substitution and as the icing on the cake he scored his first goal for the Red Devils. "What a great feeling. I'm a little emotional," it sounded afterwards.


In his second international match, Verschaeren was allowed to take a penalty immediately. "The teammates wanted me to take the penalty. Yannick pulled me over and gave me the ball. I really want to thank him for that. Also thanks to the team for supporting me. Everyone takes good care of me, both the players as the coach as everyone who works around the team. "

"Whether I was stressed when I was behind the ball? Of course a bit. Call it healthy stress. I had already experienced such moments somewhere else, but this was still special," said Verschaeren, who was immediately in the match when he came in. "I felt good from my first ball contact. I just tried to play as I always play."

"I feel a lot of confidence from the national coach", Verschaeren continues. "Otherwise he would not have brought me in and would not have given me minutes in Scotland and today. The national coach is helping me on all fronts and wants to make me better. That pleases me. I want to thank him for that trust."

First place in the starting eleven in Kazakhstan on Sunday? "I don't know. But who knows. Afterwards the focus goes back to Anderlecht."


Source: © Internal source
anderlecht-online forum